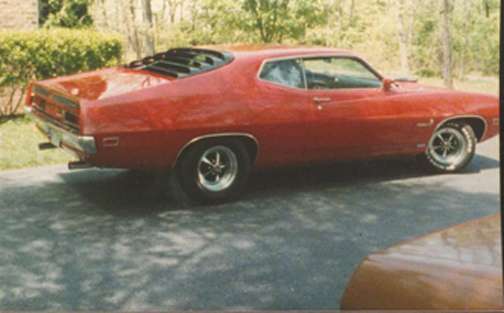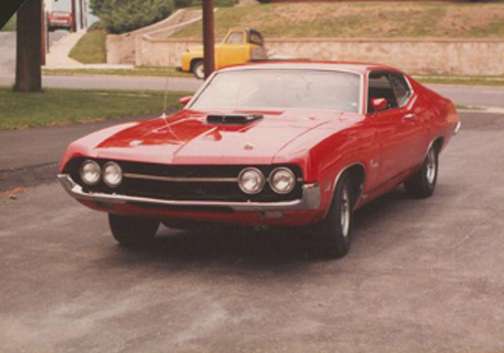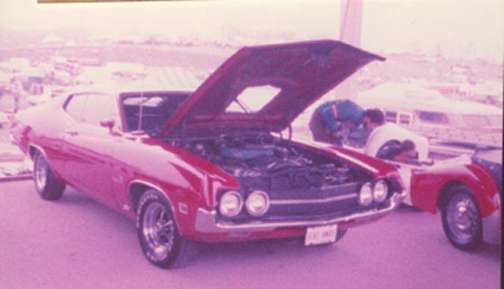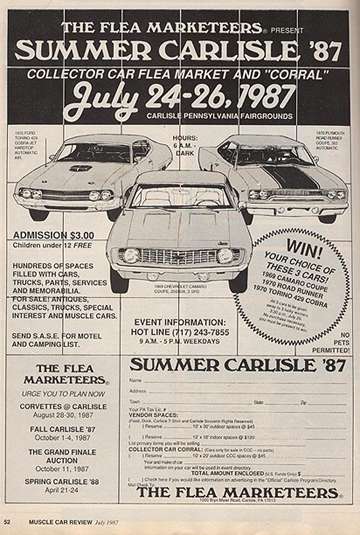 I received the following from Tony Intrieri. Tony writes "I have attached some of my pics of the car of my youth. I will give the short version of my story. At the age of 17 (1984) I bought my first car at Carlisle's Spring car show it was the Torino Cobra SCJ in the pics for a total of $4000.00. That was a ton of money at that time and yes I did need to get a loan to buy it. After two weeks of driving very gingerly (this car scared the hell out of me the first time I jumped on it) I began to explore the thrill of the secondarys on the Holly 780. One month later the Torino began a career in street racing for money in order to help with the fore mentioned car payments. In Harrisburg PA at the time we would run a 20MHP kick and the SCJ was just about unstoppable from a roll. I compiled a record of 114 wins and only 9 defeats (4 of the loses were to cars running NOS systems) where as the Torino had only Headers, a slightly larger cam, and M&H cheater slicks. I drove this car everywhere please see pic of my then girlfriend and now wife as we are headed to her prom. Also there is one pic where if you look closely you can see both A arm bushings are completely spent you see I loved this car so much I it thought it could fly! It got airborne at a speed somewhere near 110. This also caused slight damage to the front valance as the heavy 429 seemed to cause the cars nose to come down a little hard. I have no idea how high it got up there. Anyway I joined the Air Force and was stationed in North Carolina I brought the Car with me of course driving it all the way. I got out of the service 2 years later and came home to a rough job market. I held out as long as I could but it came to the be that either I sell my car or I don't eat. I listed my car in a local trader and the first day it was listed I received a call from a guy my age who loved the car and told me he needed something to get him back and forth to a local college and my car was perfect and that if I could just help out a poor college kid who didn't have a lot of money he would forever grateful. I went a long with this and accepted $800.00 less then my asking priceof $5000.00. He also asked if I had any info on the car. I did have several issues of Muscle car review that featured the CJ's and I told him let him borrow them so he could runs copies of the articles pertaining to the CJ and he agrees to mail them back to me in a few days. One month later I call the kid and ask for my magazines back and he says " What are you talking about?" I don't have any of your books and you didn't lend them to me you gave them to me. After that conversation I decide to pay this guy a visit in person. I find his house and I am amazed to find that it is no less then a mansion. It had to cost in the neighborhood of 1 million plus. No one is home so I snoop around outside the house a little and see my car inside the basement beside a pool table being used as a conversation piece! If that wasn't enough to make me sick one month later I get my July 87 Issue of Muscle Car review and I see the advertisement that I have attached. Yes my car was sold to the owner of the Carlisle fairgrounds Bill Miller and yes it was to given away as a door prize at the summer Carlisle show. I went begging for tickets the entire weekend of the show as people left the show and I had approximately 500 tickets when the drawing went off. You had to be present in order to win and of course they went through 100 + tickets drawn before finding a winner. Not me. It was a guy who was drunk out of his mind and still totting a bottle in a brown paper bag as he walked up to the stage. They gave him his choice of the 3 cars and after swooning back and forth for 3 minutes he picks the 6 cyl Camaro. Like I said he was drunk. Anyway the last two cars were given to people who were vendors and my car was sold the Fall show for $8000.00 to a local kid who promptly rolled it totaling the car two weeks later. As I said I will be buying another Torino Cobra and this one I will make sure I am buried in. I hope you enjoyed this sad but true story .
See you around, Tony"
Thanks Tony, what a great story!!!!! Wow the trials and tribulations we go thru for our cars. I wish you luck my friend....